About the Exchange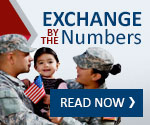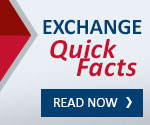 The Army & Air Force Exchange Service remains a team of dedicated people committed to increasing the value of the Exchange benefit while continuing to give back to the military community. We have proudly served America's armed forces for over 118 years. Our focus has been on delivering quality goods and services at competitively low prices with superior service. Visit Public Affairs or view these quick facts to learn more.
Our Vision and Mission
Our vision is to be our customer's first choice. It is our dual enduring mission to:
Provide quality merchandise and services to its customers at competitively low prices
And, to generate earnings which provide a dividend to support Morale, Welfare and Recreation (MWR) programs.
Our customers can enjoy exchange benefits in many ways, and in many places as 'We Go Where You Go!
The Exchange returns earnings to the Army and Air Force to improve troops' quality of life and to provide a dividend to support MWR Services programs. Roughly two-thirds of The Exchange earnings are paid to MWR/ Services programs each year.
In addition to strengthening troops' quality of life, we offer everyday benefits!
Exchange Leadership
The Exchange is commanded by a Director/Chief Executive Officer who reports to a Board of Directors. The Board of Directors membership is established by Joint Service Regulation AR15-110 / AFI34-201(I).
Facilities Worldwide
The Exchange operates more than 3,100 facilities worldwide, in more than 30 countries, five U.S. territories and 50 states. The Exchange operates some 181 main stores and more than 1,000 fast-food restaurants, such as Taco Bell, Burger King, Popeyes and Cinnabon.
Employment Opportunities
The Exchange is a major source of employment for members of the Army and Air Force Family. Approximately 31% of 43,000+ Exchange associates are military Family members. Another 1% of associates are military members working during off duty hours.