History

Since 1895, the Exchange's mission has been to support the men and women of the armed forces during military operations, humanitarian missions and other endeavors around the world.
"WE GO WHERE YOU GO"
...epitomizes the Exchange's mission, particularly when our service members are stationed away from American shores.
At war and in peacetime, the Exchange provides Soldiers and Airmen with the services and merchandise they need to make their lives more comfortable. The Exchange also maintains services and support to family members and troops back home.
The Exchange's partnership with the Army's Morale, Welfare and Recreation (MWR) programs and Air Force Services reflect loyalty and dedication to service members beyond cash registers.
Associate Memorial
"...from these honored dead we take increased devotion to that cause for which they gave the last full measure of devotion."
The Gettysburg Address, Abraham Lincoln, 1863
This memorial honors all the Exchange associates, whether they are local nationals, third-country nationals or Americans. In the Exchange's 119-year history, only one American – Darren Braswell – has been killed in the line of duty. Five Exchange associates from the United States have been wounded in the line of duty – and were awarded the Defense of Freedom Award, the Defense Department's equivalent to the military's Purple Heart. Several local and third-country nationals have been wounded or killed in the line of duty.
We honor these brave civilians who chose to work alongside our men and women in uniform and put themselves at risk to bring a little touch of home to troops.
Preservation
The Exchange History Program collects and archives personal stories, photos and documents from the Exchange associates and retirees who have supported the U.S. Military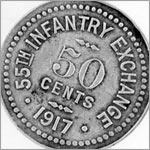 in peacetime and wartime. The program also welcomes input from military members, dependents, and veterans who want to tell their stories of the Army and Air Force Exchange Service.
Deployees
"Serving Those Who Serve" - To date, more than 1,700 Exchange associates have deployed to dangerous places around the world. True heroes, dedicated and proud, we dedicate this to those men and women that have left home and comfort to stand along side our brave service members in mud and sand, slept in tents, ate the same MREs and faced some of the same perils. For the first time in the Exchange 100 year history, civilians have crossed the front line to ensure Soldiers and Airman are provided a touch of home.
Here you will find deployee information, personal stories, medals awarded and media coverage.
Do you have something to contribute?
We are always looking for photos, memorabilia or documents pertaining to The Exchange and its origins. Contact us.