Thomas P. Ockenfels
Director of Staff, Army & Air Force Exchange Service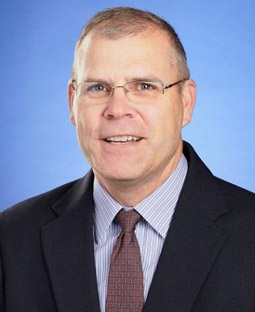 Director of Staff
Thomas P. Ockenfels is the Director of Staff for the Army & Air Force Exchange Service (Exchange) at its headquarters in Dallas, Texas. In this capacity, he serves as coordinating agent and advisor to the Exchange Director/Chief Executive Officer and Deputy Director, ensuring effective liaison with higher, collateral and subordinate headquarters and organizations. Mr. Ockenfels is responsible for the budgeting, personnel administration and morale, welfare and recreation for more than 2,700 associates at Exchange headquarters. The Exchange is a non-appropriated fund entity of the Department of Defense. Established in 1895, the Exchange today is the 56th largest retail organization in the U.S. With annual revenue of $8.3 billion, the Exchange employs approximately 34,000 associates, including military personnel. In 2016, the Exchange produced $384 million in earnings, all reinvested into the military community.
The Exchange operates more than 2,700 facilities, including department and convenience stores, gas stations, restaurants, theaters, and other specialty retail businesses on military installations in all 50 states, five U.S. territories and 36 countries. Additionally, the Exchange operates an approximately $2.6 billion receivables credit card portfolio. In order to support combat readiness and provide foreign-based service members and their families with U.S. products, the Exchange also operates bakeries in Europe and Asia and water plants in Europe under six licenses from U.S. consumer goods companies, including Wonder Bread, Krispy Kreme and Culligan.
Mr. Ockenfels is a native of Phoenix, Arizona. He attended U.S. Military Academy at West Point, earning a Bachelor of Science in Engineer Management and was commissioned upon graduation into the Infantry. In 1990, he transferred to the Quartermaster Corps. He holds a Master's in Logistics Policy from the Florida Institute of Technology and a Master's in Strategic Logistics from the Industrial College of the Armed Forces. Mr. Ockenfels' military schooling includes the Infantry Basic and Advanced courses, Command and General Staff College, and the Eisenhower School, formerly The Industrial College of Armed Forces (ICAF).
Mr. Ockenfels began his commissioned service as a Lieutenant in Alaska, serving as a Platoon Leader and company Executive Officer in Company B, 6-327th Infantry Regiment and then as the Support Platoon leader in 5-9th Infantry Regiment, 6th Infantry Division at Fort Wainwright. He commanded Company B, 105th Forward Support Battalion, 5th Infantry Division at Fort Polk, Louisiana. Later he was assigned as the Support Operations Officer and Battalion Executive Officer of the 215th Forward Support Battalion, 1st Cavalry Division at Fort Hood, Texas. His assignments overseas include the Chief of the Troop Branch, 3rd Corps Support Command in Wiesbaden, Germany, and Deputy Commander, 7th Corps Support Group in Bamberg, Germany.
Mr. Ockenfels served with the Army Materiel Command while commanding the Combat Equipment Battalion at Camp As Salayah in Qatar; he also served as Logistics Advisor to the U.S. mission to NATO in Brussels, Belgium.
Mr. Ockenfels deployed to Operation Iraqi Freedom (OIF) in 2003, serving in Kuwait and Iraq with the 7th Corps Support Group.
Mr. Ockenfels joined the Exchange team in July 2011 as a Colonel, and retired in July 2014 with 31 years of service.
Mr. Ockenfels' awards and decorations include:
The Defense Superior Service Medal
The Legion of Merit
The Bronze Star Medal with one Oak Leaf Cluster
The Defense Meritorious Service Medal
The Meritorious Service Medal with three Oak Leaf Clusters
The Army Commendation Medal
The Army Achievement Medal
The Air Assault Badge
The Parachutist Badge