Germany Fuel Ration Program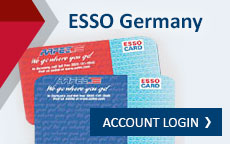 Questions?
Customers with any questions or issues should contact EU ESSO Fuel Card Program.
Locations
Locations for all the Exchange fueling stations can be found ESSO Germany.
The German government asked the U.S Forces in Germany to change from fuel coupons to an automated fuel ration card. This change from fuel coupons took place from May 2008 through 31 December 2008. Fuel Cards are required for all privately owned vehicles and for all U.S. Government non-tactical vehicles. The new fuel ration card will provide conveniences and efficiencies that were not possible with fuel coupons. At the same time, anyone who uses their fuel ration card incorrectly will be risking having to pay the German Economy Fuel Prices.
Every Soldier, Sailor, Airman, Marine, and eligible U.S civilian is responsible for using their fuel ration card properly after they've received it and activated it. To ensure complete understanding of proper fuel card use, all U.S. personnel who are stationed in Germany or otherwise eligible for the fuel ration card should fully review all published information on fuel ration card implementation and use. This includes all U.S. Forces and US State Department personnel who are either permanently stationed or on temporary duty in Germany and their family members with drivers licenses who are permanently stationed in Germany.