Military Exercises & Contingencies

Requesting Exchange Support in the Field
The Exchange has just over 6,000 facilities serving Soldiers, Airmen, and their families at the largest Army posts and Air Force bases to the most remote locations around the world.
There are three levels of field support available to you for military operations and training exercises worldwide. The level provided depends upon the distance to the Exchange, as well as duration of and size of the operation to be supported. You should contact the Exchange general manager nearest the site to be supported. The general manager will advise you on which of the following levels of support are appropriate for your requirement:
AAFES Imprest Fund Activity (AIFA)
An Imprest Fund Activity is a military-operated activity, usually in a small or remote site, where a regular direct-operation Exchange cannot be provided. The inventory has a small dollar value, normally less than $15,000. On an exception basis, the inventory can be approved for up to $100,000. Imprest Fund Activities are satellite activities of an Exchange-run facility and can be operated indefinitely. The supported unit appoints an Officer-in-Charge, who is issued an initial inventory and/or funds by the Exchange to purchase a beginning inventory. Money generated from sales is used to replenish the merchandise stock and does not go to the unit. The unit is responsible for resupply, including ordering and transporting merchandise. An Imprest Fund Guide for Commanders is available from your local Exchange representative that covers in detail all the features of this program. Currently, the Exchange supports eight Imprest Fund Activities within the Europe, Southwest Asia, and Africa areas of operation.
Tactical Field Exchange and Direct Operation Exchange Support
Tactical Field Exchange (TFE): Military personnel assigned or attached to the supported unit operate a TFE. It is used where military personnel strength is relatively large but located in a hostile or potentially hostile environment. The supported commander or higher headquarters must identify military personnel to operate TFEs. The TFE provides basic health, hygiene, and personal care items.
Direct Operation Exchange-Tactical (DOX-T): DOX-T provides the same level of support as the TFE, except it is operated by Exchange personnel assigned or attached to the parent Exchange. DOX-Ts will usually replace TFEs as soon as areas are secure enough for noncombatant civilian personnel to be inserted. The stock assortment and services can be expanded significantly depending on the availability of transportation and facilities to support the Exchange operation.
Mobile Field Exchange: A tractor-trailer mobile based type of DOX-T support that provides the same capabilities as a DOX-T where an existing facility (i.e building or tent) is not available.
Store-in-a-Box: A point-of-sale system for TFE or DOX-T operations that are configured to support credit card payments where cash may not be readily available.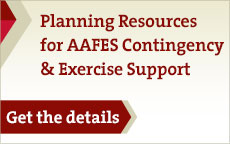 If you find yourself in the any of the scenarios below (but not limited to), you can initiate an inquiry for Exchange support by following this link (Planning Resources for AAFES Contingency & Exercise Support).
Deployed at a location with no Exchange retail support
Scheduled to deploy to a location where Exchange retail support is not established
Scheduled to exercise operational readiness in the field where the closest Exchange is not near your location
Please include Exchange support in the exercise planning process to ensure that the level of support desired is available when you need it. Contact the Logistics Contingency Plans office at Exchange HQ 214-312-4286 or DSN 312-967-4286 for assistance.