James Jordan
Chief Financial Officer, Army and Air Force Exchange Service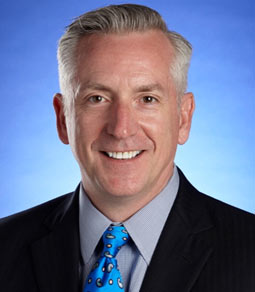 Chief Financial Officer
James Jordan is an Executive Vice President and the Chief Financial Officer (CFO) for the Army & Air Force Exchange Service (Exchange). As CFO, he is responsible for maintaining the financial integrity of the Exchange system and providing management control of financial requirements and resources. The Exchange is a non-appropriated fund entity of the Department of Defense. Established in 1895, the Exchange today is the 56th largest retail organization in the U.S. With annual revenue of $8.3 billion, the Exchange employs approximately 34,000 associates, including military personnel. In 2016, the Exchange produced $384 million in earnings, all reinvested into the military community.
The Exchange operates more than 2,700 facilities, including department and convenience stores, gas stations, restaurants, theaters, and other specialty retail businesses on military installations in all 50 states, five U.S. territories and 36 countries. Additionally, the Exchange operates an approximately $2.6 billion receivables credit card portfolio. In order to support combat readiness and provide foreign-based service members and their families with U.S. products, the Exchange also operates bakeries in Europe and Asia and water plants in Europe under six licenses from U.S. consumer goods companies, including Wonder Bread, Krispy Kreme and Culligan.
Jordan, the son of an Air Force officer, spent his childhood living throughout the U.S. and Europe. He earned a bachelor's degree in accounting in 1987 from the University of Southern Mississippi and a Master of Business Administration in Finance from Dallas Baptist University. Jordan is a Certified Public Accountant.
Mr. Jordan began his career with the Exchange in 1987 as a management trainee in Killeen, Texas. His first assignment was at Exchange Headquarters as an internal auditor. Spending nineteen years in the Audit Division, he audited almost every facet of the Exchange's worldwide operations, including retail, contracting, finance, and services, eventually becoming an audit project manager. Promoted to Assistant Treasurer in 2007, Jordan joined the Finance and Accounting Directorate and become instrumental in guiding the Exchange through the economic downturn of 2008 and 2009. In 2010, Jordan became Vice President of Budget and Analysis, where he oversaw the Exchange's budgetary process, project cost evaluations, monthly financial reporting and the year-end audited financial statements.
Jordan became Treasurer in 2012, where he managed the Exchange's corporate finance functions, including Treasury Operations, Risk Management, Benefit Administration and Pension and Investments. He was named Executive Vice President and Chief Financial Officer in May 2016.