Dr. Patrick Oldenburgh Jr.
Senior Vice President & Chief Human Resources Officer, Army & Air Force Exchange Service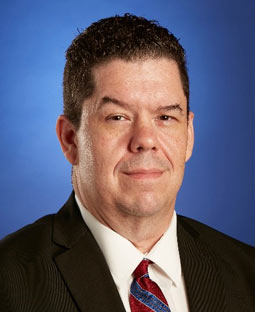 Chief Human Resources Officer
Dr. Patrick Oldenburgh Jr., is a Senior Vice President and Chief Human Resources Officer for the Army & Air Force Exchange Service (Exchange), at its headquarters in Dallas.
The Exchange is a non-appropriated fund entity of the Department of Defense. Established in 1895, the Exchange is the 61st largest retail organization in the U.S. With annual revenues of $8.6 billion, the Exchange employs approximately 35,000 associates, including military personnel. In 2019, the Exchange produced $369 million in earnings, all reinvested into the military community.
Oldenburgh is responsible for leading and implementing Human Resources strategies supporting business initiatives on a global scale.
The Exchange operates 4,000 facilities, including department and convenience stores, restaurants, malls, movie theaters, gas stations and other specialty retail businesses on military installations. The Exchange's operations span 50 states, four U.S. territories and 32 countries. Additionally, the Exchange Credit Program manages a $2.5 billion credit card receivables portfolio. To support combat readiness and provide foreign-based service members and their families with U.S. products, the Exchange operates bakeries in Europe and Asia and water bottling plants in Europe under six licenses from U.S. consumer goods companies, including Wonder Bread, Krispy Kreme and Culligan.
The Exchange annually provides troops with more than 800,000 combat uniforms and serves more than 2.6 million lunches to Warfighters' children at Department of Defense Education Activity schools overseas. A major employer of Veterans and military spouses, the Exchange has hired more than 1,600 Wounded Warriors since 2010 and is committed to hiring 50,000 Veterans and military spouses by the end of 2020.
Oldenburgh was born in Burlington, Vermont. He earned his Doctorate of Management in Organizational Leadership from the University of Phoenix. He also holds a Master of Arts in Human Resources Management and Human Resource Development from Webster University, as well as a Bachelor of Arts in Speech Communication from Cameron University. Oldenburgh is a Society for Human Resource Management Senior Certified Professional (SHRM-SCP) and HR Certification Institute Senior Professional in Human Resource Management (SPHR). He also holds Strategic Workforce Planning (SWP) certification from the Human Capital Institute and Change Management certification from Cornell University.
Oldenburgh began his Exchange management career as a Learning Facilitator at Fort Sill, Oklahoma. Since then, he has held a variety of Exchange positions, including Human Resources Manager at Buckley Air Force Base, Colorado and Fort Bliss, Texas. In 2004, he was assigned to Exchange headquarters as a Career and Contingency Operations Manager. He was then reassigned in 2008 as a Human Resources Manager in Contingency Operations, United Kingdom and Germany. He returned to Exchange headquarters in 2011 as Chief, Organizational Systems and Support, later becoming Chief, Employee Relations, Europe Region, in 2015.
Oldenburgh assumed the position of Vice President, Human Resources-Policy, in 2016, becoming Vice President, Human Resources-Operations the following year. He was named to his current position in August 2020. He has also deployed to Kuwait for Operation Iraqi Freedom/Operation Enduring Freedom.
Oldenburgh's performance over his career has earned him one Extraordinary Achievement Award, seven Thanks Awards, one Superior Accomplishment Award, four Excellence Awards and one Occupational Safety and Health Administration Achievement Award.