Philip Stevens
Chief Administrative Officer, Army and Air Force Exchange Service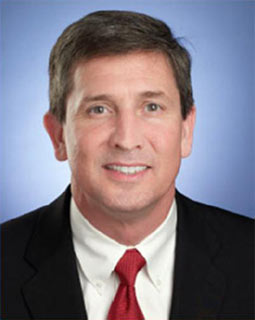 The Chief Administrative Officer
Philip Stevens is the Chief Administrative Officer for the Army & Air Force Exchange Service (Exchange). The Exchange is a non-appropriated fund entity of the Department of Defense. Established in 1895, the Exchange today is the 61st largest retail organization in the U.S. With annual revenue of $8.6 billion, the Exchange employs approximately 35,000 associates, including military personnel. In 2017, the Exchange produced $376 million in earnings, all reinvested into the military community.
The Exchange operates nearly 2,700 facilities, including department and convenience stores, restaurants, malls, movie theaters, gas stations, and other specialty retail businesses on military installations in 49 states, four U.S. territories and 34 countries. Additionally, the Exchange operates an approximately $2.5 billion receivables credit card portfolio. In order to support combat readiness and provide foreign-based service members and their families with U.S. products, the Exchange also operates bakeries in Europe and Asia and water plants in Europe under six licenses from U.S. consumer goods companies, including Wonder Bread, Krispy Kreme and Culligan.
The Exchange provides troops with more than 1.1 million combat uniforms and serves more than 2.6 million school lunches to Warfighters' children overseas every year. A major employer of Veterans and military spouses, the Exchange has hired more than 1,200 Wounded Warriors since 2010.
Prior to beginning his professional career, Mr. Stevens served as an Air Force officer at Tyndall Air Force Base and in the Defense Information Systems Agency at the Pentagon. He earned a Master of Science in Information Technology from the Florida Institute of Technology. He also has a Bachelor of Science in Computer Science from Purdue University.
Mr. Stevens held several senior positions in the private-sector prior to joining the Exchange in 2013 including Chief Information Officer and Corporate Advisor at Scintel's Technologies in Atlanta, where he developed and managed Scintel's systems and designed solutions for customers in the retail, financial and medical industries.
Prior to that, Mr. Stevens served as Senior Vice President for Infrastructure and Operations for Macy's in the Systems and Technology division. He led Technology Operations for Macy's, Bloomingdales, Macys.com and all support divisions. During this time, his team completed the infrastructure integration, supporting the acquisition of the May Company.
Mr. Stevens was the Chief Information Officer for Education Finance Partners in Austin, Texas, which was the fourth-largest originator of private student loans in the U.S.
Mr. Stevens joined the Exchange as the Senior Vice President/Chief Information Officer of Information Technology in March 2014 and later was named Executive Vice President/Chief Information Officer.
Currently reporting to the Director/CEO, Mr. Stevens provides strategic vision and leadership to assigned corporate business activities to include information technology, strategic planning and partnerships, procurement, general counsel and other administrative functions.