Ana Middleton
President & Chief Merchandising Officer, Army and Air Force Exchange Service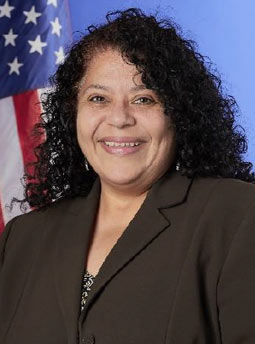 President & Chief Merchandising Officer
Ana Middleton is the President and Chief Merchandising Officer for the Army & Air Force Exchange Service (Exchange). The Exchange is a non-appropriated fund entity of the Department of Defense. Established in 1895, the Exchange today is the 61st largest retail organization in the U.S. With annual revenue of $8.6 billion, the Exchange employs approximately 35,000 associates, including military personnel. In 2017, the Exchange produced $376 million in earnings, all reinvested into the military community.
The Exchange operates nearly 2,700 facilities, including department and convenience stores, restaurants, malls, movie theaters, gas stations, and other specialty retail businesses on military installations in 49 states, four U.S. territories and 34 countries. Additionally, the Exchange operates an approximately $2.5 billion receivables credit card portfolio. In order to support combat readiness and provide foreign-based service members and their families with U.S. products, the Exchange also operates bakeries in Europe and Asia and water plants in Europe under six licenses from U.S. consumer goods companies, including Wonder Bread, Krispy Kreme and Culligan.
The Exchange provides troops with more than 1.1 million combat uniforms and serves more than 2.6 million school lunches to Warfighters' children overseas every year. A major employer of Veterans and military spouses, the Exchange has hired more than 1,200 Wounded Warriors since 2010.
Ana was born into an Air Force family at Forbes Air Force Base, Kan. Although the base closed in 1973, her ties to the military remain a lifelong commitment. She graduated from Mascoutah High School in Illinois, just a few miles outside of Scott Air Force Base. The family transferred to Ramstein Air Base, Germany, when she was 16. Ana attended the University of Maryland, European Division, where she would later receive her Bachelor of Management Studies.
Ana began her Exchange career in 1982 as a part-time cashier at Ramstein, and then joined the management ranks in 1989 as a Sales Area Manager at the Vogelweh BX, also in Germany. Ana spent the majority of her career in the field holding numerous operational management positions, including Chief of Retail Operations Europe during 2001-2003. During this assignment, she had the opportunity to help set up Exchange facilities in Kuwait, Oman, Qatar, United Arab Emirates and Iraq in support of our troops.
From September 2003 to June 2005, Ana was the General Manager for the United Kingdom Exchange. She then moved to the Washington, D.C., area and took over the General Manager position of the Andrews Air Force Base Exchange until September 2005. From there, she assumed the New England Area Manager position, overseeing Exchanges in Maine, New York, New Jersey, Massachusetts, Pennsylvania, Delaware, Virginia, Maryland and the District of Columbia. In August 2006, she took on her first headquarters position as Executive Administrator to the Office of the Chief Operating Officer. In October 2007, she was promoted to VP of the Hardlines Division in Sales Directorate. She transitioned from this position to Vice President of the Sales Directorate in May 2010.
Ana became the Senior Vice President, Sales Directorate since May 2011; the Sales Directorate was designated as the Merchandising Directorate in June 2013. She was named Executive Vice President in March 2014. In October 2016, Ana assumed her current role as President and Chief Merchandising Officer for the Exchange.