Exchange History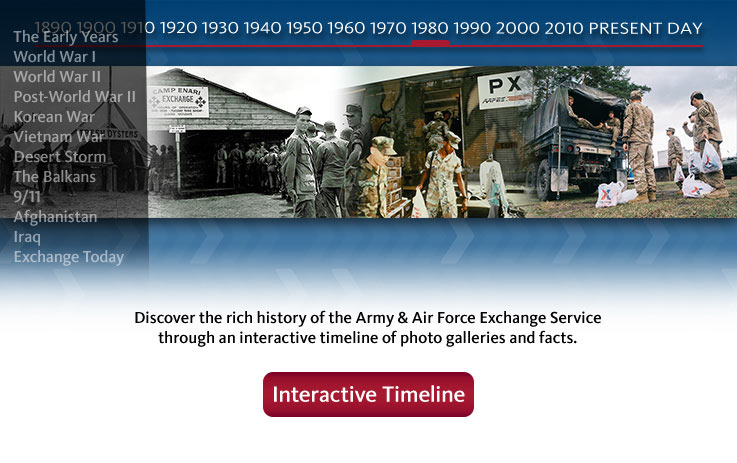 "WE GO WHERE YOU GO"
Since 1895, the Army & Air Force Exchange Service has served the Nation's armed forces during combat operations, humanitarian missions and military exercises around the world.
Our motto is "we go where you go" - five simple words we take very seriously.
Learn more about how the Exchange has served throughout the world, from prairies of the developing Western United States of the 1800s to today's deserts of the Middle East.
Legacy of Service
Our associates have voluntarily deployed to serve troops during major wars, natural disasters, deep into jungles, high on mountaintops, and at tips of the spears in eastern Europe and South Korea.
That's why no other retailer has such a rich and storied history.
Read about this unique group of associates who have left the safety and comfort of their homes to serve America's Warfighters.
Preserve Exchange History
Contact the Exchange historian for more information about donating to the history archives.
Do you have something to contribute?
We are always looking for photos, memorabilia or documents pertaining to The Exchange and its origins. Contact us.
Check out our Quick Facts to find out all you need to know about the Exchange, the Department of Defense's largest military retailer.