Exchange Quick Facts

Since 1895, the Army & Air Force Exchange Service has been serving a critical role in strengthening military readiness, recruiting and retention. Today, the Exchange continues to go where Warfighters and their families go to provide tax-free shopping and military-exclusive pricing at installations worldwide and at ShopMyExchange.com. The Exchange is the 62nd-largest retailer in the U.S., achieving highly competitive earnings of 5.6% of sales in 2019. Exchange earnings provide dividends to military Quality-of-Life programs. The Department of Defense's largest retailer, the Exchange is governed by a Board of Directors responsible to the Secretaries of the Army and Air Force.
Be the preferred retail and services provider for the military family through extraordinary customer experiences and value pricing.
The Exchange serves an eligible customer base of 31 million active-duty military; retirees; National Guardsmen; Reservists; 100% disabled honorably discharged Veterans; all other honorably discharged Veterans (online only); authorized Public Health Service associates; authorized National Oceanic and Atmospheric Administration associates; Coast Guard members and family members.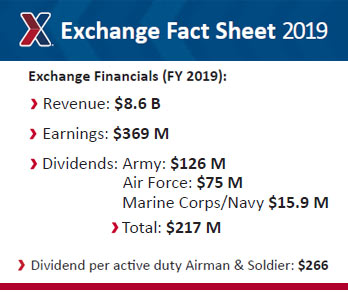 Sales and Dividends
100% of Exchange earnings support the military community. Exchange earnings support critical military Quality-of-Life programs that promote military readiness and resiliency including Child, Youth and School Services, Armed Forces Recreation Centers and more. In the past 10 years, the Exchange distributed more than $2.2 billion to these programs. All remaining earnings are reinvested into new and renovated stores.
The Exchange funds 97% of its operating budget from the sale of goods and services. The remaining 3% of funding comes from appropriated funds; the vast majority of this support is devoted to transporting goods overseas to make American goods available to those serving abroad.
The Exchange operates more than 4,000 facilities in 34 countries, 50 states, 4 U.S. territories (Guam, Puerto Rico, Northern Mariana Islands and American Samoa) and the District of Columbia. No matter where troops go, the Exchange goes with them. The Exchange serves troops in Southwest Asia, Africa, Eastern Europe and the Pacific. Facilities include 122 main stores, 165 Military Clothing stores, 589 convenience stores (troop stores, Express locations, Class Six outlets) and specialty stores that carry furniture, outdoor living merchandise and more; and 77 movie theaters. More than 1,700 quickserve restaurants under licenses such as Subway, Boston Market and Starbucks bring a true taste of home. The Exchange manages more than 3,800 mall stores and kiosks, including barbershops and wellness services. No matter where troops go, the Exchange goes with them. The Exchange serves troops in Southwest Asia, the Middle East, Africa, Eastern Europe and the Pacific.
The Exchange is a major employer of military families. 85% of the Exchange's 35,000 associates are connected to the military. Nearly 11,800 Veterans and military spouses work for the Exchange.
Military & Family Support
When military members deploy to remote locations, the Exchange is with them, bringing troops products, services and a taste of home. Since 9/11, more than 4,800 Exchange associates have deployed. Other Exchange support annually included outfitting 1.1 million troops with combat uniforms, serving 2.5 million school lunches to their children and operating seven plants providing baked goods, bottled water and ice overseas.
The Exchange Credit Program offers affordable credit to the military community. Established by Congress in 1979 to protect service members from predatory lending, the credit program operates the MILITARY STAR® card for 1.6 million cardholders. Benefits include one of the lowest flat interest rates in the country among store cards, free shipping on online purchases and acceptance at all military exchanges and commissaries and online at ShopMyExchange.com, MyNavyExchange.com and ShopCGX.com.
---
Download / Print PDF Version of Exchange Quick Facts