David Nelson
Chief Operating Officer, Army and Air Force Exchange Service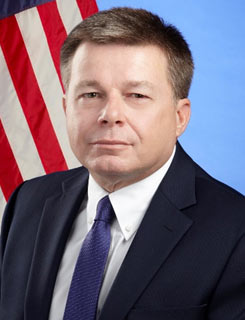 The Chief Operating Officer
The Chief Operating Officer helps the Director/CEO direct the overall operation of the Exchange. The Chief Operating Officer supervises those staff elements (Operations Group) that directly support retail and service activities in the field.
David Nelson is the Chief Operating Officer (COO) of the Army & Air Force Exchange Service (Exchange). As COO, he directs overall operation of the Exchange, supervising Regions, Services and Food, Real Estate, Loss Prevention, Store Operations and staff elements that directly support all Exchange activities. The Exchange is a non-appropriated fund entity of the Department of Defense. Established in 1895, the Exchange today is the 61st largest retail organization in the U.S. With annual revenue of $8.6 billion, the Exchange employs approximately 35,000 associates, including military personnel. In 2017, the Exchange produced $376 million in earnings, all reinvested into the military community.
The Exchange operates nearly 2,700 facilities, including department and convenience stores, restaurants, malls, movie theaters, gas stations, and other specialty retail businesses on military installations in 49 states, four U.S. territories and 34 countries. Additionally, the Exchange operates an approximately $2.5 billion receivables credit card portfolio. In order to support combat readiness and provide foreign-based service members and their families with U.S. products, the Exchange also operates bakeries in Europe and Asia and water plants in Europe under six licenses from U.S. consumer goods companies, including Wonder Bread, Krispy Kreme and Culligan.
The Exchange provides troops with more than 1.1 million combat uniforms and serves more than 2.6 million school lunches to Warfighters' children overseas every year. A major employer of Veterans and military spouses, the Exchange has hired more than 1,200 Wounded Warriors since 2010.
Mr. Nelson graduated from Eastern New Mexico University with a Bachelor of Business Administration degree and has completed Executive Development Programs at Texas A & M University, the University of Arkansas and the Wharton School, University of Pennsylvania.

Mr. Nelson is the son of a career Air Force service member and the son-in-law of a career Army Soldier.
Mr. Nelson began his Exchange career as a Branch Store Retail Manager after completing the Retail Management Training Program in Kaiserslautern, Germany. Since that time, Mr. Nelson has held a variety of Exchange positions, with operations management experience at a variety of stores, executive management experience in five General Manager positions, two Area Manager assignments, plus he was Vice President in the Real Estate Directorate. He was promoted to his first Senior Vice President (SVP) position in the Real Estate Directorate, followed by SVP responsibility for Western Region. He took over senior leadership of Central Region in February 2013 and his current position as COO in February 2016.

Mr. Nelson has deployed to Iraq for Operation Iraqi Freedom in 2003, helping stand up operations and ultimately serving as the General Manager for the greater Baghdad operations footprint.