Restaurants, Food Operations & Theaters
Restaurants, Food Operations & Theaters
Exchange Fast Food Restaurant Operations
Fast food continues to dominate the restaurant industry and has proven to be successful with the military customer. Exchange restaurant operations are divided into three categories: Signature Brands, Name-Brand Fast Food (NBFF) Direct, and Concession. Exchange operates over 2,266 restaurants in 18 countries.
Signature Brands:
This group of restaurants has been developed and is supported by the Exchange staff. These highly successful brands offer a variety of fast-food programs competitive with those available in the private sector. All are turn-key and include: image packages, menu specification, employee training, and marketing support.

Anthony's Pizza was the first signature brand developed. It features pizza by the slice and whole pizzas with a variety of toppings. Additional standard and optional menu items are available in various restaurant configurations. Currently, there are more than 185 Anthony's Pizza restaurants open and new delivery programs currently being developed.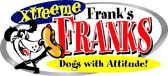 Frank's Franks is a specialty restaurant serving gourmet all beef franks, polish sausage and baked potatoes. There are currently over 42 restaurants open worldwide serving Frank's Franks (including carts, kiosks, and mall restaurants).

Robin Hood Sandwich Shoppes serves a full line of specialty sandwiches, featuring a variety of breads baked on site daily. Over 108 Robin Hood restaurants are in operation.
Exchange also operates American Eatery, ReelTime Express and Specialty Express Products signature brands, in addition to generic snack bars and cafeterias. A principal strategy of the organization is to convert these generic outlets to branded concepts.
Name-Brand Fast Food (NBFF) Direct

Exchange is satisfying our customers' preference for branded food; operating name-brand fast food restaurants under both license and franchise agreements. In 1974, the Exchange entered into an initial partnership with Baskin Robbins and now operates NBFF restaurants worldwide.
The first Exchange Burger King opened in Ansbach, Germany, in 1984. Exchange currently operates Burger Kings in nine countries including free standing, modular and in-line units.
Louisiana fast is available at Popeye's Restaurants in the Pacific, Europe, and CONUS.
Think outside the bun at Taco Bells open in CONUS, Europe, and the PACRIM.
Charley's Grilled Subs bring that grilled hot sub taste to troops around the world.
Looking for that taste of Asia, Exchange offers Manchu Wok Restaurants.
Subway Restaurants available in CONUS, Europe, and PACRIM.
Church's Chicken
Pizza Hut
Einstein Bros Bagels
Seattle's Best Coffee
STARBUCKS
Godfather's Pizza
Captain D's
Cinnabon
Blimpie
Dunkin Donuts
Through branding, Exchange stays on top of industry trends and technology, continuing to offer products that provide a great dining experience and improved quality of life for our customers.
Concession Food
Concession food operations are those where a local business person pays Exchange a fee to operate a food concept on an Army or Air Force installation. They include nearly every type of food offering from espresso coffee carts and neighborhood ice cream carts to mobile food trucks and NBFF operations. Exchange utilizes concession operations with consideration of the following: when the sales potential is questionable or does not warrant an investment by Exchange, is limited in scope to a few installations, or seasonal like the ice cream carts that would be difficult to make money on a year-round basis.
Plant Operations
Exchange currently operates seven food plants overseas that produce American name-brand and American-style products. In Europe, Exchange operates a bakery, ice cream, bagged ice and water bottling plant in Germany. In the Pacific, Exchange operates a bakery in Korea and two in Japan.
The plants support troops of all Forces stationed overseas through exchange retail / food operations, commissaries, MWR facilities, military dining facilities and embassies. The plants also directly support the school meal program by utilizing excess USDA flour commodities.
The plants produce licensed name-brand products that are sold at Express and Commissaries. These include Wonder & Miltons products, Pillsbury bakery items, Baskin Robbins ice cream, and Culligan water. Plants also produce institutional food items to include Burger King and Chili's hamburger buns, Cinnabon cinnamon rolls and Macaroni Grill peasant bread for restaurants operated by military systems overseas. The plants also produce various snack food products to include tortillas chips and popcorn.
Exchange Theaters
Exchange provides entertainment motion picture service to Army and Air Force installations around the world. The theaters offer current movies at reduced rates.
Many theater snack stands are being remodeled, replacing generic operations with Reel Time Express. This attractive upgrade is now featured in more than 130 theaters. Recent design modifications incorporating modular components have enabled even the smallest theaters the opportunity of implementing this program.
To enhance the movie experience, Dolby Sound Systems have been added to over 100 theaters with more conversions planned. The Exchange First Run Circuit which provides the latest releases to 59 overseas locations has been expanded. This allows theaters in Europe and the Pacific to receive first-run titles earlier. Virtually all of Hollywood mainstream movies wind up on the Exchange film circuits.
Free admission film service, on VHS videocassette, is furnished to military members stationed at over 527 remote locations including 60 OEF / OIF sites.
Although Exchange operates the theaters and is responsible for the projection equipment, the building is assigned to the host command, which is responsible for building and auditorium seating maintenance.
School Lunch Program
School Lunch Program operations provide a nutritious and delicious USDA lunch at 92 schools in 9 countries. The price that parents pay for a school lunch in Okinawa or Europe, despite being thousands of miles away, is the same as a school lunch in Dallas, Texas. In a year, 4.4 million lunches are served overseas. Out of that 4.4 million, 43% are eligible for reduced priced or free lunch.