The Exchange employees deploy, bring store to troops
Beth Young
Hilltop Times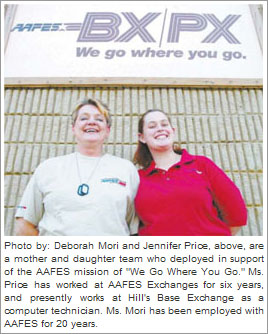 There is nothing like a little bit of home to make being deployed easier. To accomplish this, more than 400 Exchange employees have volunteered for deployment to Iraq and Kuwait to bring the comforts of home, far from home.
"They are running PXs (Post Exchanges). It might be in a tent, a semi-trailer or a warehouse," said Diane Brubaker, Hill's Military Clothing Sales Service manager. "Our goal is to make being deployed livable for the airmen. We want them to be able to get the same things they can at home - sodas, cigarettes, even DVD players - the necessities and even little luxuries."
Most of the volunteers stay for six months. However Jennifer Price, a computer technician at Hill's Base Exchange, stayed for 10 months. She worked as sales and merchandising and cash cage manager at Camp Arifjan, Kuwait.
"(I volunteered because) I've been a military brat all my life so I wanted to be there to support the troops," Ms. Price said.
The stores and their employees helped to lift the morale of the troops. Ms. Price served not only the Air Force but all branches of the service, and saw first hand what having a PX available could do.
"There was a group who hadn't seen a store for six months. When they saw us their faces just lit up, they were so glad we were there," she said.
Some thought we were crazy for coming. But most of the military members were just very thankful we were there.
While deployed Ms. Price got to experience the war first hand. When she first arrived in March 2003, she was required to have a gas mask with her at all times.
She added that many of the troops understood that the Exchange employees could be risking their lives being in such unfriendly territory.
"Some were very curious why we would come and some thought we were crazy for coming," Ms. Price said. "But most of the military members were just very thankful we were there."
After being deployed for about nine months and bringing a little bit of home to the troops, a little bit of home came to Ms. Price. Her mother, Deborah Mori, another Exchange employee, volunteered and was deployed in December. Normally, Ms. Mori works as a customer support specialist at the Exchange headquarters in Dallas. Since being deployed in December, she travels back and forth daily to different PX sites in Kuwait and Iraq, setting up communications and Point of Sale systems for PXs.
"Was I scared coming over here? The answer was no because I knew that my daughter, Jennifer, was here and I would be able to see her," Ms. Mori said.
Mother and daughter got to spend about a month together before Ms. Price's deployment ended in January.
"I was excited to have my mom there. She came just before Christmas, so it was nice to spend Christmas together," said Ms. Price. "She is like my best friend and it was hard not be able to talk to her everyday. (Her being there) alleviated a lot of my homesickness."
Ms. Mori will be deployed until October and although her daughter misses and worries about her, she is very proud of her.
"With everything that is going on it's scary but I know she is doing what she wants and I'm glad," said Ms. Price.
Ms. Price is currently back serving Team Hill members at the BX, but is glad she had the chance to support the troops who are defending freedom.
Experiences Downrange
These stories represent a sampling of the more than 4,500 deployees and their experiences downrange. If you are a deployee and would like to add your deployment history, please contact us.
Faces of Deployment