Deployees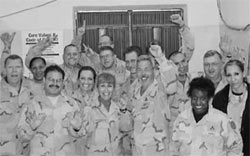 The section features our deployees and their personal stories, medal awardees and media coverage.
Serving Those Who Serve
To date, more than 4,500 Exchange associates - many more than once - have deployed to dangerous places around the world. Those associates who deploy are true heroes, dedicated to proudly "serving those who serve." This page is dedicated to those men and women who have left home and comfort to stand alongside our brave service members in mud and sand. They slept in tents, ate the same MREs and faced some of the same perils as the troops.
Defense of Freedom Medal
The Defense of Freedom medal is the civilian equivalent of the military's Purple Heart. The first recipients who were honored were those Defense Department civilians injured or killed as a result of the terrorist attack on the Pentagon.

The medal itself consists of a gold circle framing a bald eagle holding a shield. The shield exemplifies the principles of freedom and defense of those freedoms upon which our nation was founded. The reverse of the medal is inscribed with "On Behalf of a Grateful Nation" with a space for the recipient's name. The laurel wreath represents honor and high achievement.
The ribbon is the red, white and blue. The red stripes commemorate valor and sacrifice. The wide blue stripe represents strength. The white stripes symbolize liberty as represented in our national flag. The number of red stripes represents the four terrorist attacks using hijacked airplanes and the single blue stripe represents the terrorist attack on the Pentagon on Sept. 11, 2001.
As of 2010, five living Exchange employees have been awarded the Defense of Freedom Medals: Sarah Briggs, Brian Sonntag, Bety Desil, Rebecca Pember and Maria Marek. Darren Braswell, the only Exchange associate from the U.S. killed in the line of duty, was awarded the Defense of Freedom medal posthumously.
Experiences Downrange
These stories represent a sampling of the more than 4,500 deployees and their experiences downrange. If you are a deployee and would like to add your deployment history, please contact us.
Faces of Deployment