Publications for Members
AREA Newsletter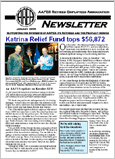 AREA's main communications tool is the quarterly Newsletter, which is published in January, April, July and October. The Newsletter contains the latest retiree news: AREA and chapter happenings; what we're doing to protect your retirement benefit; news from the Exchange, Congress, DoD and other government programs; the latest from our benefit providers and a health and benefits section in which the Exchange provides up-to-day information about insurance, retirement benefits and 40l (k) programs.
The Newsletter is also our official communications medium for providing election forms for national offices and changes to the constitution and by-laws.
Lastly, we tell you about how AREA and its members are making life better for those around us through the Emergency Relief Fund, the Community Service Program, the Scholarship Program, and groups and individuals participating in ongoing volunteer efforts.
New and reinstated members, and existing members with computers (or other e-mail reading devices) who renew their membership, receive the newsletter via e-mail only.
You can send an e-mail to the Newsletter Editor, Marcia Kane at kanemarea@windstream.net.


The Exchange Post
Send questions/comments, and name, address and zip code, to Steve Smith, Editor, at smithstev@aafes.com.
AREA Community Links
Newsletter Archives