Six Sustainability Goals

1: Reduce Energy Consumption
Our sustainability efforts reach out to locations around the world. The Exchange has four energy management courses available to its 44,000 associates worldwide. The four online courses provided education and awareness of energy conservation opportunities applicable to major business functions.
The Exchange has an energy audit program to assess the energy efficiency of metered facilities, recommended no-cost energy efficiency measures and identify any operations and maintenance efficiency opportunities. Identified energy savings measures may also become standard practices.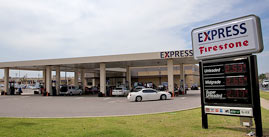 The Exchange is focused on innovation by conducting numerous pilot projects to test new technologies. As a result of one successful pilot program, light emitting diode (LED) technology replaced high intensity discharge (HID) as the Exchanges standard lighting on gas canopies. LED lights are 75% more energy–efficient and have a simple payback of three to five years; they also improve product marketing and security while reducing night sky pollution. By procuring Energy Star and high-efficiency rated equipment for Exchange operations, we are reducing energy consumption and greenhouse gas emissions. The Exchange requires 20% of the beverage machines on vending contracts renewed each year to be Energy Star rated. The Exchange has also purchased reach-in and walk-in coolers that are California Energy Commission rated and use up to 27% less energy.
Gas Canopy LED lights are 75% more energy efficient and have a simple payback of three to five years.
The Exchange has successfully worked with our franchises to ensure that we are using the most energy-efficient equipment available. Efficient dry-line or "grill-to-order" cooking equipment is replacing steam tables and batch broilers are being installed at restaurants throughout the world. These two technologies will save the Exchange almost $550,000 per year.
2: Reduce Water Consumption
The Exchange shares the military's goal to reduce water consumption by 2% per year. As such the Exchange developed a back-of-house design for equipment and fixtures that is being used in all Exchange Restaurant facility renovation and new construction projects. The new equipment and fixtures are more energy and water efficient. With these new standards, a typical Main Street USA Food Court uses over 220,000 gallons less water per year.
The Exchange developed a design for all food court facility renocations and new construction projects... typically using 220,000 gallons less water per year.
Standards were refined to increase procurement of more water-efficient equipment such as low-flow nozzles on sinks, high-efficiency pre-rinse spray valves and pressure-controlled foot pedals on hand wash stations. These fixtures installed in new construction projects provide total water savings of 30% per year. At existing headquarters facilities and various exchanges, over 150 standard flow rest room faucets have been replaced with automatic fixtures that reduce water consumption by 70%.
Currently, the Exchange is replacing steamers with a waterless Energy Star version and installing Energy Star ice machines and dishwashers. The Exchange has also started to use native landscaping, or xeriscaping, around our buildings. The Exchange makes every attempt to install landscaping that does not require a permanent irrigation system.
3: Reduce Waste
The Exchange uses a recycling program that focuses on packaging by-products in a 'Super Sandwich Bale.'
The Exchange implemented a corporate-wide "Trash-4-Cash" recycling program in 2009. The recycling program focuses on packaging by-products in a "Super Sandwich Bale." Plastic hangers, aluminum cans, books and periodicals, cardboard and shredded paper are compressed into large bales ready for recycling. The program also uses Super Sorter "Three-in-One" recycle bins to encourage customers and associates to recycle paper, plastic and aluminum cans. This program is being used at 152 Exchange facilities in the United States. The commodities recycled during the first full year of the program totaled more than 4,500 tons.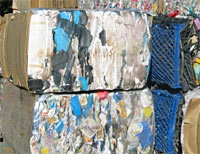 In 2010, the Exchange will complete the worldwide rollout of an automated paper towel dispenser program and a compact coreless tissue program. Both programs will reduce landfill waste by anestimated 363,000 pounds per year.
The Exchange sells used cooking oil and grease from 290 food facilities throughout the United States. This program takes over 2 million pounds of used vegetable oil that would otherwise have become waste and recycles it into valuable resources such as biodiesel fuel. These efforts will yield financial and social returns while at the same time providing energy conservation, pollution prevention and environmental stewardship.
4: Reduce Fleet Dependency on Fossil Fuels
The Exchange is focused on the reduction of fossil fuel dependency. We currently use bio-diesel to support our logistics fleet at 44 U.S. military installations. Two of our initiatives are to increase the use of bio-diesel and increase the efficiency of petroleum product consumed per mile. In 2009, we increased bio-diesel fuel consumption by 11.5% and increased fossil fuel efficiency by 2.2% compared to 2008.
Oil Purification Systems are installed in 264 tractors and have proven cost effective by reducing the number of oil changes, per tractor, from 8 to 1 annually. This reduced the oil for each tractor by 70 gallons per year. Actual one year savings for 264 tractors is 3,251 gallons of oil or 53%.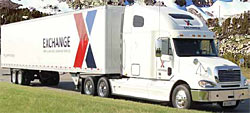 The Exchange was awarded EPA SmartWay Transport Partner with the highest score available (1.25) and EPA SmartWay tractor and trailer certifications. Beginning in 2009, a new tractor which is EPA SmartWay certified was integrated into The Exchange fleet. The new tractor has a six-cylinder in–line engine, aerodynamic features and wide base single tires which decrease rolling friction and in turn save fuel.
In 2010, the Exchange is equipping all tractor-trailers with the tire inflation devices, auxiliary power units and piloting wide-based tires. Installing this technology will contribute to the reduction of fuel consumption, fossil or bio-diesel, by the fleet.
Since 207, the Exchange has been actively involved with the United States Green Building Council (USGBC) to promote buildings and communities that are environmentally responsible...
5: Increase Sustainable Buildings
Energy and water efficiency play a very important role in design and construction of new stores and renovations of existing stores.
Since 2007, the Exchange has been actively involved with the United States Green Building Council (USGBC) to promote buildings and communities that are environmentally responsible, profitable and healthy places to live and work. Participating in the USGBC Leadership in Energy and Environmental Design (LEED) program is very beneficial to the Exchange, the community and the environment.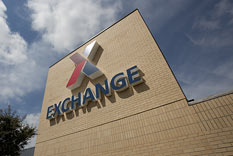 Currently, the Exchange has 34 new construction projects designed to meet LEED Silver standard. These 34 shopping centers, lifestyle centers, shoppettes, mini malls and restaurants are registered with USGBC as LEED New Construction, Core & Shell or Retail. The Exchange successfully opened its first two LEED Silver designed shopping centers and is scheduled to open its first LEED silver shoppette and lifestyle center in 2010. These projects are guiding our endeavor to build as green as possible while still maintaining a positive return on investment.
6: Increase Procurement, Marketing, Sales of Eco-Friendly Goods and Services

From environmentally-friendly shopping bags to an increased selection of Energy Star appliances, The Exchange continues to find new and creative ways to make the communities we serve better places to live, work and shop.
As an Energy Star partner, the Exchange is able to provide guidance to shoppers in choosing high-efficiency appliances and electronics that will help them conserve energy, protect the environment and reduce utility costs at home. The Exchange currently offers more than 328 Energy Star rated items in stores, catalogs and online at www. shopmyexchange.com. The Exchange has increased the Energy Star stock assortment to 75% of all major appliances, 100% of televisions and 93% of computers.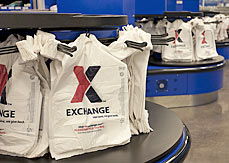 The Exchange continues to strengthen associate and customer awareness of Energy Star products by providing product training courses and promoting the products through the Exchange catalogs, sales flyers, online mall and television programming. As customers have become more aware of their benefits, Energy Star products continue to gain popularity. To help customers make simple "earth friendly" changes with far-reaching impact on the environment the Exchange has increased the marketing of compact fluorescent light bulbs (CFLs). Total CFL sales increased from 67,000 to 71,000 units in 2009.
Additionally, the Exchange has increased the procurement of Energy Star equipment in Exchange Restaurants and restaurants from 127 to 256 in 2009. We also use "green" custodial cleaning products in our retail and food facilities and ensure that green practices are considered on all service contracts.
The "green wave" the exchanges are riding to more efficient and environmentally-friendly operations has even made its way to the World Wide Web. Our military.nextworth.com is available online through the Exchange Online Mall here on our website.
Earth-friendly product information, useful links and helpful environmental information are available at www.shopmyexchange.com. Customers will also find EPA Environmental Kids Club games, pictures and stories plus tips and facts for kids who want to learn how to save energy.